Thuraya MarineStar
Description

Regulatory compliance by advanced tracking and monitoring Reduce OPEX through efficient usage and maintenance Stay safe with emergency SOS alerts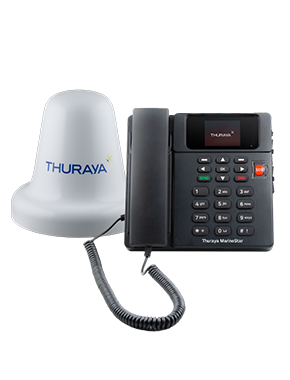 THURAYA Marinestar use cases
Fisheries: In order to curb unreported and unregulated fishing, national governments are tracking and monitoring small and medium-sized boats. Thuraya MarineStar's catch reporting, tracking and monitoring capabilities help users meet regulatory requirements. Additionally, the terminal is able to communicate with vessels, whenever alarm is raised.
Crew welfare: Crew on small vessels require basic connectivity. With the MarineStar onboard, they are always within reach – even on high seas in turbulent conditions. The terminal facilitates crew calling and SOS alerts, whenever required. Thuraya creates connected communities of seafarers with its local numbering plan implemented through roaming partnerships with GSM operators worldwide.
Condition based monitoring (user/server-defined): The MarineStar enables users to perform condition based or on-board monitoring for predictive and preventive maintenance according to equipment's status. Sensory data is transmitted from third-party devices through the terminal for further analyses. This translates to better planning and upkeep by reducing out-of-service time.
Features
Quick and easy to install
Circuit-switched voice
Fish catch reporting capability
Advanced 2-way vessel tracking and monitoring based on time, distance, speed and area
OTA (over-the-air) programming capabilities
Versatile interface functions
SOS alert
Geofencing capability
Push notifications for weather, news and other alerts
Radio silence
Tracking application as a service
Languages: English, Chinese, Vietnamese, French, Arabic, Bahasa, Tagalog, Turkish