easyRESCUE-PRO
AIS & DSC are combined in one device in the easyRESCUE-PRO rescue transmitter! The transmitter can be programmed quickly and easily using an app via Bluetooth.
Description

AIS Rescue Transmitter
easyRESCUE-PRO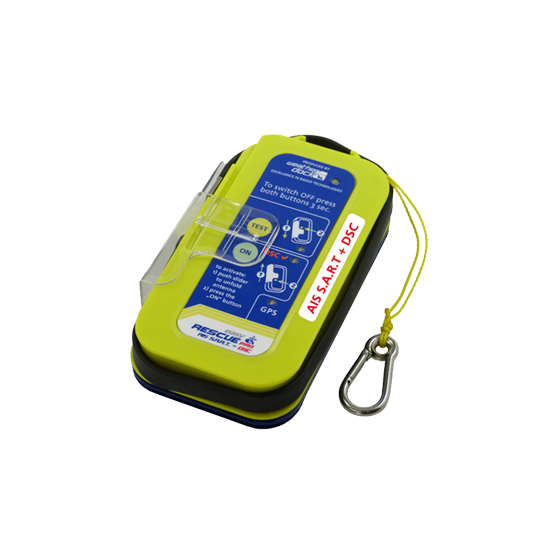 Automatic activation on contact with water
Simultaneous activation of
• AIS distress signal
• DSC distress call
Up to 8 different MMSI numbers programmable via Bluetooth and app for DSC "closed loop"
Manual one-hand activation at the push of a button
Automatic activation by pull cord and magnetic switch
Protection against unwanted tripping by protective plate
easyRESCUE-PRO Details
Automatic change to DSC "open loop" (GMDSS) after 10 min
96h in AIS operation after the DSC "closed loop" alarm was confirmed by own ship
24h in AIS and DSC operation, if DSC (without confirmation) runs to the end
Individual device ID is sent
Mothership sees the casualty via AIS system
Mothership receives DSC distress call
GPS position updated every minute
8 AIS messages per minute
Ships with a DSC controller can start the search and rescue and/or forward the distress call
High radio range of approx. 10nm and more (depending on the height of the receiving antenna)
No time delays due to satellite communication 100% buoyant without additional buoyancy aid
DSC transmitter and receiver
Includes a DSC transmitter and receiver
"Closed loop" DSC alarms can be sent to up to 8 programmable DSC vessel IDs
"Open loop" DSC alerting (All ships call) is received by common DSC stations (Basestation, Class A, B, D and H) and can be acknowledged by Base and Class A stations.
Compliant with RTCM 11901.1 and certified according to EN 301 025 (DSC Class D)
The easyRESCUE-PRO thus has two functions: localization by (AIS) and GMDSS alarming via DSC
easyRESCUE-PRO Benefits
DSC according to RTCM and class D
No license fees No registration necessary
Can be used without a radio certificate
Approvals • CE and R & TTE • BSH (for AIS components) • SOLAS (for AIS components)
Weatherdock AG is a German leading manufacturer of electronic safety and navigation devices, receivers and security solutions for shipping.